PADI IDC & MSDT Preparation Course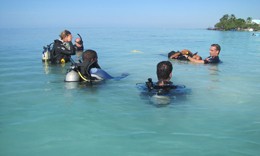 When you are a Divemaster and want to become a PADI Open Water Scuba Instructor, we have a 10 day IDC or a 1 month internship that will give you the experience needed to make sure you will be qualified. (See both options below)
Our program will give you all the information and training you need to achieve this while learning many outstanding diving skills that will make you a responsible and safe dive instructor.
We have the best set up for these programs, with a comfortable air-conditioned conference room at the hotel for the classroom sessions, and we are the only company to have a swimming pool on site, allowing you to practise your skills whenever you like.
You will learn how to teach from PADI courses, Open Water Diver to Divemaster and even a few specialties. As we want to spend less time in the classroom and more in the water our students can do the online IDC presentations before they get to come to us. Also for the best preparation for the exams we give you the theory online from PADI so you can prepare for this in your own time.
With this approach we take out a lot of unnecessary stress during your actual Instructor program about your theory knowledge, and allows you to focus completely on your teaching skills. When you sign up you will receive your online access pass through PADI, and you can complete that part when it is convenient for you.
That will take out long lectures during the IDC on topics as business of diving, marketing diving etc. in the classroom which we better spend practicing skills. Of course your Course Director is always available for questions and explanations on theory etc.
Prerequisites for this program
18+
Have a medical certificate that states you are fit for diving
Have an Open Water Diver certification
Have an Advanced Water Diver certification
Have a Rescue Diver certification
Have a Divemaster rating
Have at least 100 logged dives (for the 10 days option)
Our IDC includes
PADI online theory (Physics, Physiology, Equipment, Decompression theory and Skills and environment)
PADI IDC E-learning, Instructor development course, EFR Instructor course, Extra theory classes, Physics, physiology, equipment, decompression theory and skill and environment with the Course Director
Job placement assistance
Side mount orientation dive (need an additional day after the Instructor exams)
Free IDC prep course (need 2 days extra prior to the IDC)
Access to the hotel pool for practice (Only one in Bayahibe with an onsite training pool)
Price $1299
Not included in this program:
Meals and drink
Local lunch cost around $3
Medical insurance
$10 tourist visa
PADI examination fee and Instructor application fee $745 (to be paid directly to PADI by credit card)
Divemaster application fee $105, EFR Instructor application fee $100
Airport transfers $75 each way (La Romana airport free)
If you are a divemaster that would like to learn a lot more then we can offer you an extra one month program.
This program includes the following PADI courses and extras
E learning, online presentations, PADI online theory (Physics, Physiology, Equipmen, Decompression theory and Skills and environment)
Instructor development course
Side mount try dive
Compressor workshop
Access to the hotel pool for practice (we are the only company in Bayahibe with an onsite training pool)
Job placement assistance
Nitrox diver or Instructor specialty
Marine biology training
Fundemar certificate (optional)
International reef research technique (optional)
A shared room in our apartments
Private rooms available on request
Wireless internet in the apartments
Price for this program $1999, including 5 Instructor specialties $2499 (does not include $55 PADI fee per specialty)
Not included in this program
Meals and drinks
Local lunch cost around $3
Medical insurance
$10 tourist visa
PADI examination fee and Instructor application fee $745 (to be paid directly to PADI by credit card)
EFR Instructor application fee $100
IDC Crew pack $500
EFR Instructor materials $120 (Instructor manual, pocket mask, video, student manuals)
Airport transfers $75 each way (La Romana airport free)