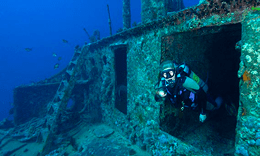 For the real dive freaks we will take you to the most popular dive site of the island, where you can go reef and/or cave diving.
The divers who stay in hotels in Bavaro and Punta Cana will be picked up at their hotel around 7.30am for the trip to the Caribbean side of the island. We will arrive around 8.30am in the small town of Bayahibe at the authentic fishing village where we will board our dive boat and then take a 10 minute boat ride to the dive site where we will make our first dive at the St George wreck.
St. Georges wreck is one of the most popular dives sites in Bayahibe. This boat was originally known as the M.V Norbrae but was renamed St. George after it was hit by Hurricane George in 1998. It was built in Scotland in 1962 and was a 240 feet long cargo ship that was used to transport barley and wheat between Norway and the Americas. While diving in the wreck you will see a spectacular display of marine life.
After exploring the wreck on this excursion, the second dive will be made in the national park Guaraguao reef. It will be either at the local reef or at the Atlantic princess that lies 12 metres, 40 feet below the sea. Here you find a great variety of Caribbean Sea life and original canons from ancient Spanish ships.
We will then have lunch in the quiet harbour of Bayahibe.
It will then be possible to make a third dive in the Cave Padre Nuestro, a must for all cave lovers.
All excursions include lunch, transport and guidance from professional PADI dive staff.
Price US$ 225 for St. George and Reef Dive.
Price US$ 225 for St. George, Reef and Cave Dive.
The excursion including transportation is $ 130
Dive gear rental is $15