PADI IDC Staff Instructor
After you become a Padi Master Scuba Diver Trainer, the next challenge will be IDC Staff Instructor, duration of this program is 14 days.
As a IDC staff Instructor you will be able to teach and certify a Padi Assistant Instructor independently.
You will learn how to evaluate IDC candidates on their Confined water presentations, Open water presentations and theory presentations and in general assist the Course Director during the entire IDC.
Taking this next step will definitely help you to develop your professional skills as a Instructor.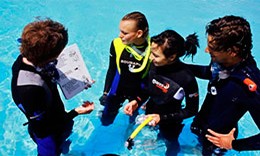 Prerequisites for this course.
Be certified as a Padi Master Scuba Diver Trainer
Be certified a a Emergency first response Instructor
IDC staff Course Include,
Evaluation training with the Course Director
Refresh on dive theory
Assist and attend a complete IDC
Evaluate Confined water sessions
Evaluate Open water presentations
Evaluate theory presentations
5 part theory exams
Price, $ 650
Not Included,
IDC Staff Crewpack ($ 450 Includes digital Course Director manual)
IDC Staff application fee ($ 129)