Emergency First Response Course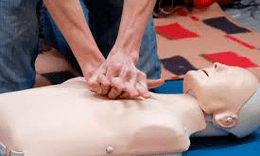 In the Emergency First Response course you will learn the basics of responding to an emergency, and the right techniques for CPR, rescue breathing, serious bleeding etc.
After completion of the course you will feel confident and knowledgeable to react in the correct way in case of an accident.
This course meets the requirements for completing a rescue course, so most of the time we teach this course in combination with the PADI Rescue Diver course.
It is not necessary to be a diver to complete this course, and for those who are interested can continue to become a EFR Instructor, and teach as many people possible these important skills which can save lives.
Duration of the course is approximately 6 hours
Price of the course including manual and online certification $125
In combination with the Rescue diver course $100