Advanced Open Water Diver to DiveMaster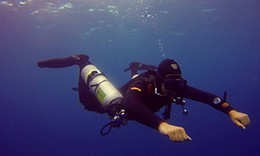 If you are an Open Water Diver and want to become a Professional PADI Divemaster, then our 2 months program will be ideal for you to get you into the professional ranks of PADI divers.
Our program will give you all the information and training you need to become a professional PADI Rated Divemaster. You will learn many diving skills that will make you a responsible and safe dive instructor. We will tell you about all the tips and tricks to make your students understand you easier.
This program may take a bit longer and can be more expensive than similar programs but our goal is to make sure you are highly qualified. Also in this program you will learn marine biology and reef conservation techniques to maximise your awareness and skills as a professional.
Prerequisites for this program
18+
Have a medical certificate that states you are fit for diving
Open water diver certified
This program includes the following PADI courses and extras
Open Water Diver course (review)
Advanced Open Water Diver course
EFR First aid
Rescue diver course
Divemaster course
Compressor workshop
All round 5 star IDC dive centre experience
Access to the hotel pool for practice
Job placement assistance
Side mount orientation
Airport transfer
Required PADI materials
PADI certification fees
At least the 60 required dives for certification (In general you will log 80 to 100 dives)
A shared room in our apartments for 2 months
Private room additional $350
All Inclusive price for this program $2899
Not included in this program
Meals and drinks
local lunch cost around $3
$10 tourist visa