PADI IDC & MSDT Preparation Course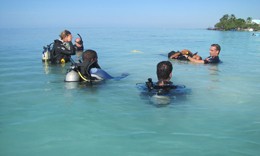 When you are a Dive master and want to become a PADI Master Scuba Diver Trainer we can help you well on the way in this 2 months program.
To obtain the Padi Master Scuba Diver Trainer you will have to be a Padi Instructor who can teach 5 Padi specialties besides the standard, PPB, Project AWARE and Project AWARE Coral Reef, then after certifying 25 students on any level you can apply for the MSDT rating.
Our program will help you well on the way, after the IDC and the Padi Instructor exams the Course Director will teach you 5 Instructor specialties, standard are Deep, Nitrox, Oxygen Provider, Drift and Navigation.( other specialties like side mount upon request)
Then after the Specialty Instructor training and obtaining your Padi teaching status, you can start teaching your first courses with the help from our Course Director and experienced staff.
After this program you will feel comfortable teaching courses and have more value for companies when you look for a job any where around the world.
Prerequisites for this program
18+
Have a medical certificate that states you are fit for diving
Have an Open Water Diver certification
Have an Advanced Water Diver certification
Have a Rescue Diver certification
Have a primary and secondary care training done.
Have a Divemaster rating
Have at least 100 logged dives (options available to obtain missing dives before IDC, upon request)
Our IDC + MSDT prep course Includes,
PADI online theory (Physics, Physiology, Equipment, Decompression theory and Skills and environment)
PADI IDC E-learning
Instructor development course,
EFR Instructor course
Extra theory classes, Physics, physiology, equipment, decompression theory and skill and environment with the Course Director
Job placement assistance
Side mount orientation dive (need an additional day after the Instructor exams)
Free IDC prep course (need 2 days extra prior to the IDC)
5 instructor specialties
Free Fun dives
Price $2499
Not included in this program:
Meals and drink
Medical insurance
Tourist visa
PADI examination fee and Instructor application fee $865 (to be paid directly to PADI by credit card)
EFR Instructor application fee $118 (to be paid directly to PADI by credit card)
IDC Crew pack $625
Padi specialty Instructor Application fees ( $70 each specialty, to be paid directly to PADI by credit card)
Airport transfers ( available upon request)
Duration of this program is 2 months.