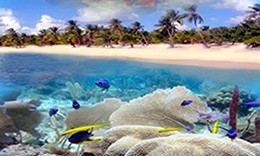 The Catalina diving and snorkelling excursion is a great day for families or groups that include divers and non-divers.
The excursion starts from the marina at La Romana, from where you will board the catamaran and go for a 20 minute boat ride to reach the island of Catalina.
The first stop is at the Catalina wall where we also make our first dive. Dive depths depends on the certification level and preference of the diver.
On a stretch of around a 100 metres you will find shallow water to a maximum of 5 metres full of corals and other sea life, where the snorkelers have time to explore the reefs.
The divers will go to the edge of the wall and can dive between 12 metres 40 feet and 30 metres 100 feet and see the beautiful coral formations growing on that wall.
After about an hour and a half, the boat goes to the other side of the island where the non-divers will be brought back to the beach, where they can do some more snorkelling or just enjoy the great scenery of the island.
The divers will go to the second dive site called Aquarium, with clear waters and shallow depths, (10 metres 32 feet) the corals and sea life look amazing and makes you feel like you are swimming in an aquarium.
After the dive, everybody will return to the beach where a buffet lunch will be served with pasta, Dominican food, fruits, barbequed chicken and pork chops.
Drinks will be included throughout the whole day.
After lunch you will have some time to relax before leaving around 3.15pm where we will head back towards the harbour of La Romana.
The journey from your hotel in Punta Cana to Catalina will take around 1hr to 1hr 30 minutes. It will only take 20 minutes from hotels in Bayahibe.
Excursion days are Mondays, Tuesdays, Wednesdays and Fridays. Other days are possible on request for groups.
Price for divers from Punta Cana is $170. This includes dive equipment and transportation.
For snorkelers $95.
Price for Divers from Bayahibe and La Romana is $135 and $65 for Snorkelers.